Pointsbet NJ Introduction
PointsBet NJ hired two American sports icons to represent the company as brand ambassadors – NFL All-pro cornerback, Darrelle Revis and NBA Hall of Famer, Allen Iverson.
With these two famous faces and the site's innovative approach to sports betting, PointsBet has surely made a name for itself.

Its biggest selling point is its innovative betting feature, known as 'Pointsbetting.' Pointsbetting is a high-risk, high-reward type of betting that has seemingly added a new element of excitement into the sports betting industry.
When new players sign up for an account, they can get two Second Chance bets up to $2,000 to play with. This is one of the most lucrative bonuses on offer today within the Garden State.
Before you register with PointsBet NJ Sportsbook, here are some of the things you need to know about playing with them.
PointsBet NJ Welcome Bonus
PointsBet offers one of the most lucrative bonuses available in New Jersey. You can potentially claim an incredibly $2,000 if you experience any bad luck on your first bets. Keep reading for a detailed explanation of the offer.
Second Chance Bets Bonus
All new players are eligible to claim two Second chance bets up to $2,000. These are separated into one $500 and one $1500 bet.
You must wager the full $500 + $1500 to claim the maximum on each part of the welcome bonus. $1500 must be wagered on a PointsBet and $500 must be wagered on a fixed odds cash bet. You only get the bonus funds if your bet loses.
So if you pick the right bets, you claim a huge win without the need to play through any bonus money, as you do on other websites.
Make sure you check the terms and conditions to ensure you know about all the qualifying requirements for this welcome bonus.
Also, did you know that PointsBet has ZERO playthrough requirements on all money won through bonus bets?
PointsBet Sportsbook Promotions
Since PointsBet NJ is so good at coming up with new and radical offers, it can be difficult to keep track of their different ongoing offers and promotions.
Just take a look at the PointsBet promotions page before you make a bet, so you're aware of any bonus bets that may apply to your chosen sport.
You'll find promotions listed in the "promos page" on the site. These are updated at least weekly, so be sure to check in to see what's being offered. PointsBet NJ promotions are all based on:
bet types
leagues
times of day
PointsBet also offers a variety of daily promotions on different selections of sports. This sportsbook is well known for having offers that cover far more bases than its competitors.
UEFA Champions' League Promo
The UEFA Champions' League is in full swing in Europe and PointsBet is offering an early payout up to $100 if your chosen team is led by two goals or more at any point during the game. This is an incredible offer because of the amount involved.
And with many of these games that involve a lot of goals, a two-goal margin is not exactly uncommon.
Any amount over $100 will be paid out at the end of the game if your team wins out. This bonus can be used multiple times a day on as many games as you want, but only the first $100 staked counts.
Daily Parlay and Player Booster Odds
At Pointsbet, you will receive a daily parlay or player booster odd. Details of this promotion do change daily, therefore it is important to check the website for further information.
Lunchtime Booster
One popular promotion at PointBet currently is the lunchtime booster odds. This promotion is offered on weekdays from noon to 3 PM. Get a slice of the action with your slice of pie!
Refer a Friend
You can win a bonus $50 bet by inviting your friends to the party. All they have to do is click your unique link, which can be found in your account settings, and register for an account.
Once your friend deposits at least $50, you'll receive a $50 bonus bet.
Take note, referring members must have been members for at least two weeks and have a turnover of $1,000 or more, so this is aimed more at veteran players.
PointsBet VIP Program
The PointsBet VIP program is one of the best loyalty schemes you'll find in New Jersey. It rewards a significant amount of cash back to its loyal players.
Everyone is automatically enrolled in the program when they create an account. Player points accumulate and can later be converted into bonus bets. There are no stupid tiers, no special memberships, and rewards that are actually worth having.
You earn a bonus point for every $5 fixed odds bet, a point for every $1 parlay bet, and a point for every dollar won and lost on the site.
Once 250 points have been accumulated, the player can then convert their points into bonus bets. 250 points will convert to a $2.50 bonus bet. Respectively, 100,000 points can be exchanged for a $1,000 bonus bet.
This may not sound like much, but it adds up quickly. On average, the math says players can earn back up to 12% of their losses through this program.
The situation is better for parlays and points betting wagers, where 1 reward point is earned for every $1.
These are real rewards and the fact you earn points through both winning and losing is something that really makes this loyalty program stand out.
Sports Markets
Along with its incredible range of bonuses and price boosts, PointsBet covers sports from all over the world. You'll even find sports, such as Aussie rules football, which you won't find covered by any other New Jersey sportsbook.
This wide variety of sports includes:
Basketball (NBA, NCAAB)
Baseball (MLB)
Soccer (MLS)
Hockey (NHL)
Boxing
Cycling
Tennis
Golf
MMA
Motorsports
Cricket
Darts
Aussie rules football
Rugby Union
NBA Sports Betting
The NBA gains a lot of coverage at both the national and college levels. There are plenty of betting opportunities available, including parlays, price boosts on point spreads, and early cash-out opportunities.
You'll also find bets can be made in the NBA futures market. So if you want to pick which team you think will get the first pick in the draft or the MVP for the league next season, you can do it here.
NFL Sports Betting
Like with all sportsbooks, PointsBet NJ covers the NFL in-depth with competitive pricing both pregame and live.
You'll find lots of parlay opportunities on the NFL, with price boosts aimed at the sport on game day. In the same way as the NBA, you'll have the opportunity to bet on futures, including divisional champions, conference champions, and the Super Bowl winner.
Other Sports Betting Markets
PointsBet Sportsbook covers all four of the big American sports. They also cover boxing, auto racing, horse racing, and MMA. They also place a big emphasis on international sports, such as rugby and soccer.
What's especially interesting is they allow players to contact them before a major event to ask about opening up markets they don't normally cover. According to their terms and conditions, you must contact them at least two hours before the event starts and they'll consider opening up a market for that event.
This is a level of customer interaction and control you rarely find anywhere in the world much less the US.
Live Betting
It couldn't be easier to place a live bet with PointsBet NJ Sportsbook. To get the latest live bets, just click on the icon on the side menu.
On the bigger events, you can find hundreds of different in-play betting options. Lines are updated at a reasonable pace, so you're not going to find that your bet gets rejected all the time due to a line change.
Server stability is good, so you're not going to get bounced when attempting to place a live bet.
PointsBet does more than a reasonable job of providing a great live betting experience.
Withdraw & Deposit
It's important to be aware of the different banking options available to you when choosing whether to sign up for an account with PointsBet.
Although PointsBet isn't well-known outside of Australia, it does provide a number of different banking options. All transactions are processed through the platforms' cashier.
Banking with PointsBet Sportsbook
PointsBet offers the industry lowest deposit minimum of just $5. You can also make a maximum deposit of $50,000 at one time.
Your choice of the payment method will determine how quickly your money gets onto the platform. An online banking transfer, if your bank offers bill pay, or your credit/debit card are the two best payment methods if you want to start betting now.
You can also use an eCheck, which will take a few days to process.
If you're willing to get off the couch, you can also visit your nearest 7-Eleven and use PayNearMe. The only downside is certain promotional options are invalid if using funds from this deposit option. You can also apply for a PointsBet card, if you have the time, or visit the Meadowlands Casino cage and deposit with cash.
The big downside is that none of the popular e-wallets are available for use with PointsBet. Currently, there are no plans to make PayPal available, for example.
Withdrawals can be processed in as little as two business days if you're using a credit/debit card. For online banking transfers and eChecks, it could take up to five business days for you to see your money.
All transactions within New Jersey must be handled in USD, even though this is an international sportsbook brand.
When withdrawing for the first time, expect to have to complete their verification procedures. You'll need to submit an HD image of a piece of photo ID. This process will add an average of 72 hours to the time it takes for you to receive your funds.
Payment Methods
PointsBet NJ doesn't have the same renowned name in the US as many of its competitors, which is why you'll find fewer payment methods available.
Here are the banking options you can use:
Credit/debit card.
eCheck.
Online bank transfer.
7-Eleven PayNearMe.
Cash at the Meadowlands Casino.
Prepaid card from PointsBet.
Approval ratings for transactions are best when using an eCheck, PayNearMe, and a prepaid card from PointsBet.
Types of Bets with PointsBet NJ Sportsbook
PointsBet is known for having its own special type of bet you won't find anywhere else. Users can find this new form of betting called PointsBetting.
The sportsbook offers a wide variety of props for nearly every game. It also presents new odds boosters regularly. There is also an impressive amount of in-play betting options available at PointsBet.
On the other hand, you'll find that things like teaser bets aren't available when playing with this sportsbook.
Traditional betting options offered at PointsBet include:
Moneyline
Point spread
Total (over/under)
Futures
Props
Parlay
Straight
In-play
These are the main types of bets you can take advantage of at PointsBet.
Points Betting
The PointsBet wager is a type of bet you're not going to find anywhere else. It's completely unique to the PointsBet Sportsbook. This new betting system, unique to PointsBet, is based on how much the user's bet wins or loses.
Instead of going by fixed odds, the player would base their winnings or losses on the amount by which their bet wins or loses. The principle of this bet is that it's not about the odds but about how much you win or lose.
This system is a high-risk, high-reward system and gives the players a much more exciting way to bet on sports.
Currently, this bet is available on all of the Big Four American sports.
For example:
Let's say there's a game between the Pacers and the Celtics. The line is 150 points even. If the line hits 165 points, you've won. On a $10 bet, if you covered that line by 15 points, you would win $150.
But let's say the line is only 140 points. You've lost. Since you missed the line by 10 points, you would lose $100 from your $10 stake.
Moneyline Bet
The humble Moneyline bet is the simplest type of bet you'll find anywhere. Just choose an outcome for the game or event and bet on it. If your team wins, you win. It's that simple.
Moneyline betting payouts are typically lower than other types of bets, especially when it comes to the major leagues, like the NFL and NBA.
Point Spread
Betting on or against the spread is one of the most popular types of bet in the US. Games are made more exciting because the chances of winning are evened out.
If you have a bad team playing a good team, the spread will ensure that the bad team has an equal chance of winning the bet.
So, if you have the poorer team with a +7 next to its name, that means if they win the game or lose by less than seven and you bet on them, you win.
Parlays
Finally, we have the classic parlay. Although you won't find teaser bets here, parlays are well-covered and promoted, with regular price boosts.
Usually, you need to bet on a minimum of four contests for it to qualify as a full parlay. A small stake can win you huge payouts if all your games win. If you lose just one game, you lose everything.
The reason why there are such big payouts is because of the winnings rolling over.
Let's say you bet $1 on a match with odds of 2.00. You win $2 and get your stake of $1 back. That $3 goes onto the next game. If the odds are also 2.00, you would win $6, plus your $3 stake. Now you have $9, and so on and so on until the end of your parlay or until you lose.
Cash Out
PointsBet offers a cash-out option, allowing players to claim their winnings by cashing out early and cutting their losses. This is possible before the outcome of the respective game has been determined.
This cash-out option is common in NJ online sportsbooks, however, it is usually quite limited, and available only for single, fixed odds wagers. PointsBet makes this process simple for its users by listing in the Pending Bets menu, the bets which are available for cash out, along with the cash-out value.
Site Features and User Experience
PointsBet Sportsbook is simple and easy to use. It utilizes a design that enables absolutely anyone to maximize their experience with PointsBet.
The software provides a simple way for users to place bets while assisting players in grasping the complicated concept of "PointsBetting."
This is a new type of betting for the Garden State, giving this sportsbook an innovative edge compared to its competition.

PointsBetting is a new system in which the odds and payouts are dependent on the amount won or lost (down to the exact point).
The betting area is in the center of the screen and you can easily access your favorite sports on the left-hand menu.
What makes PointsBet NJ stand out is they look to help players who are new to sports betting. Together with the help of Darrelle Revis, former New York Jets player, they've created the Revis Betting Academy, where you can learn all about the different ways to bet.
The servers are stable, and the pages load quickly, so you can bet without any interruptions.
Platform and Software
The site, along with its mobile app, is well organized and simple for users to navigate. PointsBet did a great job with the organization on the platform.
The types of bets offered on the site are categorized into groups, allowing users to easily locate their favorite options. Games are sorted by the market or by future bets for the respective market.
Players can view the "Featured Bet Types" section on the homepage which displays the popular upcoming games, while games coming soon are featured in the "Up Next" category.
There is a section on the site called "The Revis Betting Academy," which entails detailed explanations on the different types of betting options from Darrelle Revis, the former New York Jet player.
Additionally, PointsBet offers new betting types, unrelated to sports betting. For example, the site includes an entertainment section where users can find betting odds for events such as the Oscars.
Mobile Sportsbook App
PointsBet also has a mobile app you can use to bet on the go. It's available for both Android and iOS. The iOS version of the app can be found from the Apple store, whereas the Android app must be downloaded directly from their website.
What you'll notice when loading up the app is it looks almost exactly the same as the desktop betting platform. This enables a seamless transition from one to the other, and vice-versa.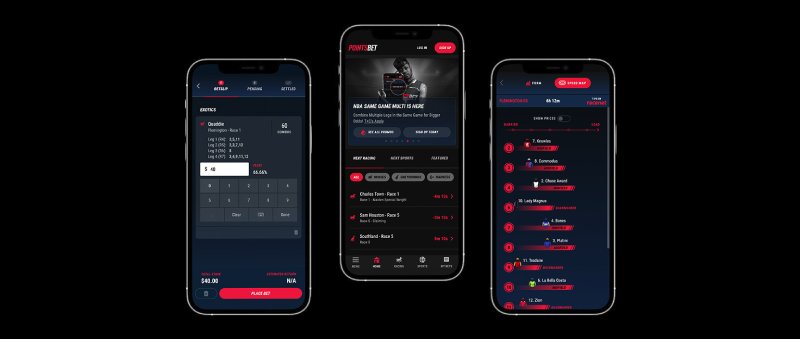 PointsBet offers a multitude of customizable account management features on its sports betting app.
This includes a view of pending bets and settled bets, a transaction history, a player rewards section, as well as a section for bonuses and promotions.
Although there's some compartmentalizing on the app, this is normal and doesn't impact the betting experience. Players report no stability issues when using the app.
Customer Support
If you have a problem with PointsBet NJ Sportsbook, you can contact them at any time of the day or night. They have a variety of contact options, as well as a wealth of literature to help you handle more basic issues.
One of PointsBet's most impressive customer support features is the Revis Betting Academy, which is basically a tutorial on points betting for those who are new to the system.
How to Contact PointsBet Sportsbook
If the Revis Betting Academy or the detailed FAQ section hasn't helped you solve your problem, contacting PointsBet Sportsbook is easy.
You can email them if you have a non-urgent problem. They'll typically get back to you within 24 hours.
Alternatively, you can load up the live chat system. Queues are short and agents are extremely responsive. You usually won't have to wait longer than a few minutes to get connected.
If you want to speak to someone directly, you can call them on 833-338-PBET. If a player would like to cancel a bet, they can receive special help on this matter through contacting support on a special number for this service.
Take note, there are separate pages for both live chat and email support.
Registration with PointsBet Sportsbook
Registering with PointsBet is as easy as registering with any other sportsbook. Just click to 'Register' and you'll be prompted to enter your personal details.
Some of the personal details you'll need to supply include: your full name, address, and email.
Just follow the on-screen instructions to complete the registration process. You'll also need to click on a verification link within your email inbox to activate your account.
After you've completed all this, you'll be free to make your first deposit.
Responsible Gambling
PointsBet takes responsible gambling online seriously and has an entire section of its website dedicated to it. They supply useful information, including detecting when you have a problem and numbers you can call if you need to talk to someone.
They have a variety of mechanisms to enable you to take control of your gambling, such as self-exclusion and the ability to set strict deposit limits via your account settings.
How to Delete an Account with PointsBet Sportsbook
There are two ways in which you can delete an account with PointsBet Sportsbook. You can either send an email to the customer support team or do it through the live chat.
You won't be required to supply a reason. The customer support team will comply with your request without question. All you need to do is arrange the return of any remaining funds within your account.
This step is permanent, and you won't be able to undelete your account at a later date.
Security, Privacy, and Fair Play Guaranteed
Security is a high priority at PointsBet Sportsbook. They use the same level of encryption that banks and other financial institutions use, so you know your data is safe from harm.
PointsBet is also fully compliant with all the rules set down by the gaming enforcement division of New Jersey.
Players have the option of enabling stronger authentication measures on their account. By enabling multifactor authentication within your account settings, you'll receive a text message with a code that you'll have to enter each time you want to login.
PointsBet Sportsbook: Our Conclusion
It's clear that PointsBet is on the cutting edge of sports betting. With its own type of bet and a regular parade of promotions, PointsBet can compete with the best American sportsbooks.
Its platform runs smoothly and the live betting process is simple. They offer adequate support to players old and new, including an incredible guide to successful sports betting in general.
It would be nice if they could offer the most popular e-wallets as banking options, but other than that this is one of the best sportsbooks in New Jersey, as of this writing.