Caesars Sportsbook NJ is the 6th sportsbook to enter the online New Jersey market. With a big head start on its competitors, Caesars has had a lot of time to build an online sportsbook that players love to bet with.
So what does Caesars Sportsbook in NJ offer to players?
Caesars Sportsbook NJ Welcome Bonus
Caesars offers a bet credit and first deposit bonus for new clients. The amounts they offer vary throughout the season, but these are always pretty decent deals.
Caesars also has additional promotions that vary week to week.
We'll provide a sketch of some of the types of promotion you're likely to see, and it's definitely worth checking out their Promotion tab regularly or reading their e-newsletter for updates on the latest offers.
Bet Credit up to $1,250 + 1,000 Tier Credits & 1,000 Reward Credits.
Caesars offers new users up to $1,250 as a Bet Credit. This means that if you looses your first bet, you will get the same amount in bet credit.
Many sportsbooks offer this kind of bet credits, which you only get if your first bet looses.
Except this, wether your first bet win or looses, you get 1,000 Tier Credits and 1,000 Reward Credits.

Caesars Sportsbook Offers
Caesars seems to have left sportsbook players out in the cold when it comes to promotions. As of the spring of 2020, there are no offers available to existing sportsbook players.
The only ongoing offers open to existing players are aimed at casino players.
Promotions Currently Available at Caesars Sportsbook NJ
In theory, Caesars Sportsbook NJ unveils promotions for sports bettors when major events are on the horizon. But these feel more like special events in themselves as there's simply nothing available to encourage bettors to return on a regular basis.
As you can see on the Caesars Sportsbook promotions page, everything is geared towards casino players.
Caesars Sportsbook VIP Program
The Caesars Sportsbook VIP program is called Total Rewards. This is integrated across all its different online platforms and apps. By playing along with them, you can earn discounts on visits to their resorts across the US and a variety of discounts on playing casino games.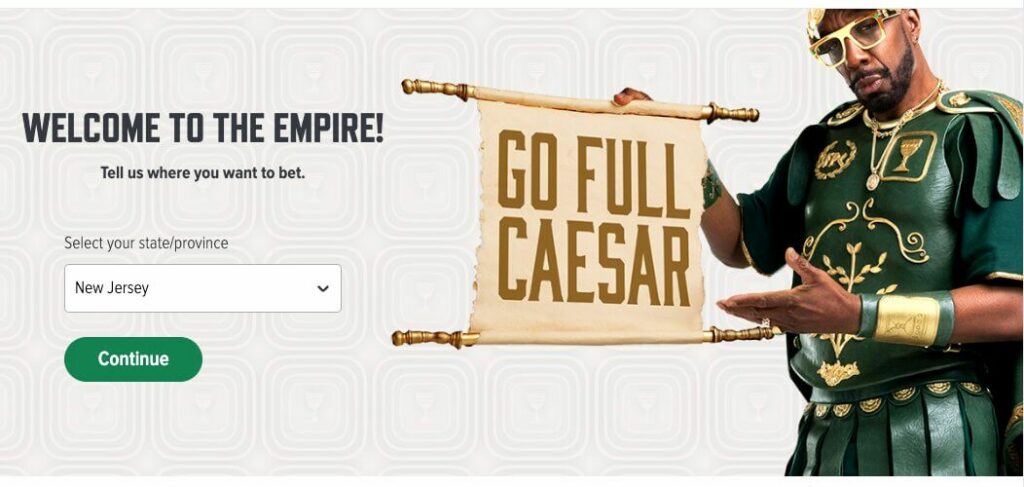 However, like with its bonuses and promotions, the only way to earn points is by playing their casino games. According to the terms and conditions of its program, you can't earn points through sports betting.
Sports Markets
Sports markets are about the only area where Caesars Sportsbook in New Jersey excels. They offer hundreds of markets on all sorts of bets. They don't offer the same comprehensive selection of sports you might find elsewhere, but on the more popular sports you can find a wide selection of markets.
NFL Sports Betting
NFL sports betting is so much more than the standard selection of markets. You can find more than 150 markets on futures alone. This is before adding in the mammoth selection of prop bets you can make on your favorite teams and players.
They also have markets available on college football and the Canadian Football League.
NBA Sports Betting
Caesars continues the theme of offering markets on practically everything with the NBA. During the NBA season, if you can bet on it, Caesars will have a market available on it. There are simply too many different types of bets to list.
You'll find plenty of open markets on college basketball and various international basketball leagues, such as the pro leagues in Europe.
Other Sports Betting Markets
You'll find all the big American sports covered at Caesars Sportsbook NJ. These include baseball, hockey, boxing, MMA, golf, and tennis. They do have some coverage of international sports, such as darts, but the selection of international sports is rather thin.
One international sports market where Caesars has really jumped into the action is soccer. You'll not only find markets on teams in North America but in both Europe and Asia.
You'll also find virtual sports, such as horse racing, to bet on. This is ideal during the summer when most sports leagues are in recess.
Live Betting
In-play betting is something that wasn't available when Caesars initially launched. Only recently have they added the option to make a live bet. Despite their slowness in adding this feature to the sportsbook, the live betting system is easy to figure out.
All you have to do is click on the line you want, and Caesars will automatically add it to your betting slip.
It's easy to navigate the live betting feature, with a dedicated tab available, and a simple layout to understand.
Withdraw & Deposit with Caesars Sportsbook
Withdrawing and depositing with Caesars Sportsbook in New Jersey couldn't be easier. You have access to all the payment methods you would expect to see. In this area, Caesars can match all its competitors in New Jersey.
Banking is smooth and frictionless, so if you're looking for a sportsbook that's easy to deal with, this is it.
Banking with Caesars Sportsbook
The minimum deposit amount for all payment methods on Caesars Sportsbook in NJ is $10. All transactions are handled in $10 and all players have a shared wallet. This means that when you make a deposit you'll be able to use the money both on the sportsbook and within the casino.
If you want an instant deposit, your credit/debit card or PayPal will get the job done. The money will be credited to your wallet within a few minutes. As well as Visa and MasterCard, you'll find that Caesars is one of the few sportsbooks to accept Amex.
You may also use a wire transfer or an e-check to make a deposit, but these banking options will take at least seven days to process.
Take note, withdrawal methods are fewer in number. You'll only be able to withdraw using an e-check, PayPal (if you made your deposit with it), wire transfer, or by using a Caesars prepaid card.
You may also visit Caesars in Atlantic City to make deposits and withdrawals.
Payment Methods
All the common payment methods you would expect with an online sportsbook in New Jersey are available through Caesars.
Here are just some of the payment methods you might want to take advantage of:
Credit/debit card.
PayPal.
E-checks.
Caesars prepaid card.
Wire transfer.
7-Eleven PayNearMe.
Cash at the Caesars Casino in Atlantic City.
Caesars Sportsbook is one of the few sportsbooks in New Jersey that can offer easy transfers. They're a renowned name and so your deposit attempts are unlikely to be frozen, particularly in relation to credit card payments.
Types of Bets with Caesars Sportsbook
Caesars Sportsbook launched with a relatively 'barebones' platform. It has since expanded its markets and the range of bets available to players. Now players can enjoy all their favorite types of wager at Caesars.
Moneyline Bet
If you want to keep things simple, the moneyline bet is for you. The 'win bet' allows you to wager on the outcome of a match. It couldn't be easier than that.
The only problem is many American team sports come with lower odds. Don't expect great odds on football or basketball.
Point Spread
The spread is an artificial handicap added to a team in order to 'even the odds'. They're most commonly applied to major American team sports.
For example, if the Miami Dolphins are playing the Kansas City Chiefs, the Chiefs may have a spread of -14. That means if you bet on the Chiefs to cover the spread, they need to beat the Dolphins by more than 14 points.
Proposition Bets
A 'prop bet' is a bet on something that doesn't impact the final result of a game. An example of this may be betting on a specific soccer player to score the first goal of a game.
You might bet on the number of interceptions the quarterback is going to throw. It's also possible to bet on whether a certain running back will run for over a hundred yards in a game.
Futures Bets
A futures bet is a type of bet on something that's going to happen in the future. The timescale can range from a few days to years in advance.
The most common type of futures bet is betting on whether a certain team is going to win the championship. Alternatively, you may bet on which team is going to get the number one draft pick at the end of the season.
Site Features and User Experience
Caesars has adopted a minimalist theme on its website. Easily navigate to different parts of the platform with the top-most menu. To find your favorite sports, just click on the left-hand menu.
All the different betting lines will appear in the center of the screen. There are also various tabs for switching between different types of wagers, such as in-play betting.
The black and grey color scheme makes it easy to instantly pinpoint specific betting lines.
Caesars Sportsbook in NJ is powered by Scientific Games. This partnership provides the platform with special technology and engaging touchpoints across in-venue screen solutions, as well as point of sale terminals.
Mobile Sportsbook App
The Caesars app is available on both Android and iOS devices. The app contains the same features as on the website. There's a lot of information, but they've laid out the app in such a way so as to avoid any overcrowding.
The app holds most of the information from the desktop site, including sub-menus for promotions, Total Rewards, and the patron protection program. Live support and user account statements are easily accessible through links on the app, listed in a toolbar that comes down from the top of the screen.

Caesars has a mobile library with over 300 casino games and 5 virtual sports games.
Sound and graphics on the app have worked well however, stability issues have been a problem, causing games to freeze and crash – many times requiring a restart. This has been an ongoing problem for a while, so it's recommended that you make your bets on the desktop platform instead.
The app for iOS is aesthetically pleasing and seems to be a bit less frustrating. Casino games were running smoother on Android than on iOS devices or even the desktop site. Also, the depositing options that players have on the desktop site are accessible on this app as well.
Caesars Customer Support
The Caesars Sportsbook in NJ does offer a good level of customer support. There are a number of ways in which you can get in contact with them.
How to Contact Caesars Sportsbook
Caesars Sportsbook in New Jersey makes it easy for you to get in touch with them. Their live chat feature is available 24/7. Just click on the widget in the lower-right corner of your screen and an agent will get back to you within a few minutes.
Unfortunately, the live chat feature is not available through the app.
You can also call them if you want support for a more complex problem. Their toll-free number is 800-986-9248.
For non-urgent problems, you can drop them an email. Email them at [email protected] and they'll usually get back in touch with you within 24 hours.
The agents are generally helpful and when you contact Caesars Sportsbook they're punctual and friendly.
Caesars NJ online offers customer support through many different outlets. There is a detailed FAQ page where most questions can be answered. For more specific questions, customers can contact support via email, phone, or live chat through the website.
Registration with Caesars Sportsbook NJ
Want to create an account with Caesars Sportsbook in New Jersey? They make it easy to get started.
All you have to do is click the 'Register' button and you'll be taken to a page where you need to enter your personal details. Information will include your name, your date of birth, and your social security number.
Caesars is required by law to ask for all of this information to ensure they know who's playing with them.
You'll need to visit your email inbox and click on the verification link to activate your account. That's all there is to it!
When you make your first withdrawal, you'll be asked to confirm your identity. Simply take a picture of a piece of photo ID and send it to them. They'll confirm your identity within 72 hours and move forward with your withdrawal.
Responsible Gambling
Caesars is committed to helping players gamble responsibly. You'll find a section dedicated to implementing responsible gambling habits on the site. There's also a number you can call if you believe you have a problem.
There are a number of tools players can take advantage of in order to practice responsible gambling. These include the opportunity to set betting limits and self-exclusion.
Self-exclusion will suspend your account for a set period of time. You won't be able to make any further deposits or place any bets during the self-exclusion period.
Once this order has been implemented, you won't be able to lift it early
How to Delete an Account with Caesars Sportsbook
Caesars Sportsbook must process all requests submitted by players for account deletion. It couldn't be easier to handle this. Once you've removed all remaining funds from your account, just get in touch with Caesars.
Tell them you want to delete your account with immediate effect. You don't need to give them a reason and they won't ask for one.
Once your account has been deleted, it will be impossible to recover. It's recommended you opt for self-exclusion before you opt for this step.
Security, Privacy, and Fair Play Guaranteed
Security is extremely important to Caesars. They use the highest level of encryption to protect player data from external attack. You can read their full security and privacy policies on the website, so you can discover how they protect your data and what they do with it.
Like all online sportsbooks in New Jersey, Caesars is committed to fair play. They have a comprehensive fair play policy on the website. Caesars also submits to regular audits from the regulatory authorities of New Jersey.
With all these protections in place, you can bet with confidence!
Caesars Sportsbook: Our Conclusion
Caesars Sportsbook offers a modern platform that's easy to bet with. Players who use the desktop app will find it easy to make the bets they want, and even to switch to the casino if they want a break.
Overall, Caesars Sportsbook NJ has some room for improvement. However, they have improved a lot, especially when it come to the bonuses and promotions.
Now a days they always have a good Welcome Bonus and their ongoing promotions for their customers are gett better and better.