Since the company was acquired by Paddy Power Betfair, a popular sportsbook corporation in Europe, FanDuel has expanded into offering betting on sports online.
The FanDuel NJ online sportsbook went live in September 2018, and it's been growing ever since.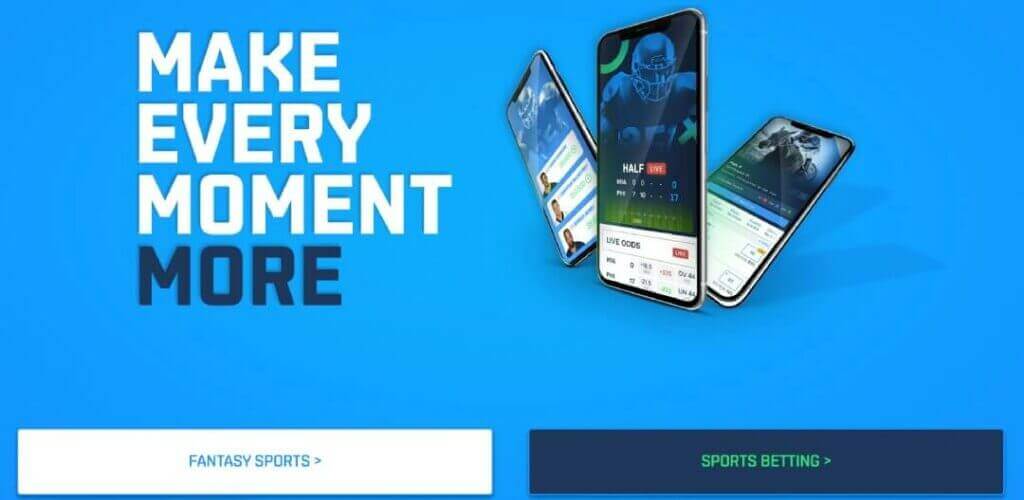 New FanDuel NJ Welcome Bonus – Bet $5 and get $150 in Bonus Bets
FanDuel in New Jersey has a couple of bonuses and promotions for both new and existing players. These promotions tend to differ depending on the time of year, with specialized promotions available for big events, such as the opening game of the NFL season and the UEFA Champions' League Final.
Keep checking back for more offers in the 'Promotions' tab on the FanDuel NJ website.
Bet $5 – Get $150 om Bonus Bets
Here you certainly have one of the best bonuses in New Jersey right now. This type of bonus is several steps better then the type of bonus bet that you only receive if your first bet looses.
Here you instantly get $150 in bonus bets after placing your first $5 wager. It's simple and very lucrative.
The only requirements are:
Minimum $10 deposit
Use your Bonus Bet of $150 withing 14 days
You don't often get these types of bonuses, so don't miss out.
FanDuel Sportsbook NJ Offers – Get Multi-Leg Parlay Insurance Today!
FanDuel sportsbook NJ is not just a sportsbook but also a casino. For regular players, you'll notice that there are a variety of promotions available across FanDuel's entire range of online play.
These promotions often change depending on which sport is prominent at the time.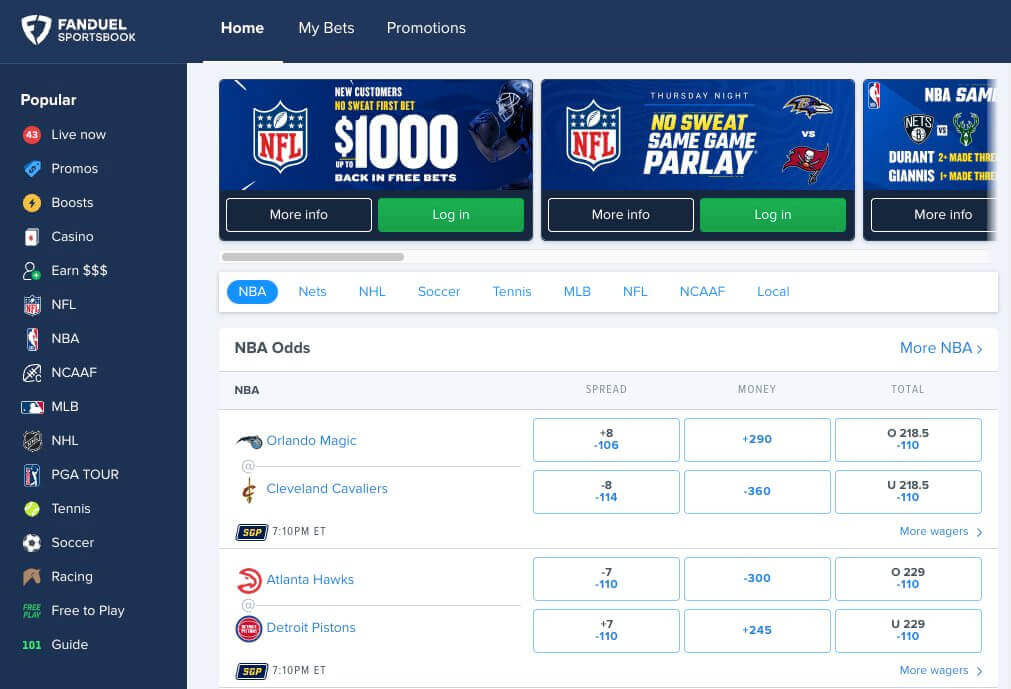 Promotions Currently Available at FanDuel Sportsbook
FanDuel has plenty of great promotions for you to pass the time. These promotions tend to offer smaller rewards, but they can quickly add up if you're a regular sports bettor.
Take a look at the FanDuel Sportsbook NJ promotions page for the latest offers available to players.
Ensure Your Parlays with Multi-Leg Parlay Insurance
Parlays are an excellent way of netting a big jackpot. FanDuel Sportsbook offers multi-leg parlay insurance on all parlays with five or more legs.
If all but one of your legs succeeds, you can get up to $25 back. So if you want to take advantage of this multi-leg parlay insurance, place a $25 parlay with five different legs.
Your bonus funds will be credited to your account within 72 hours.
Promotion: Refer a friend
Special promotions are also offered to players who refer a friend. If you refer a new player and the new player registers an account for themselves, you will split a $20 bonus.
FanDuel NJ Sportsbook VIP Program
One area where FanDuel NJ falls down is its lack of a VIP program for sportsbook players. They do offer a loyalty program for their daily fantasy sports but little else.
They do offer a DFS points program, however. These can be earned and exchanged for access to special events, other secret promotions, and large prize drawings.
Hopefully, FanDuel in New Jersey offers some type of loyalty program soon.
Sports Markets
Another area where FanDuel, sadly, could improve is in the number of sports available. You'll find all the main sports covered, but other sportsbooks in New Jersey have a far more comprehensive collection of major and minor sports.
NBA Sports Betting
The NBA is one area where FanDuel excels. Due to its original focus on fantasy sports, there are lots of different betting options available with the NBA.
FanDuel also covers college basketball and the Olympics. During the season, you'll find lots of promotions aimed at the NBA, including multi-leg parlays and regular daily offers.
NFL Sports Betting
The NFL season is another major focus due to FanDuel's affiliation with fantasy sports competitions. Not only will you find lots of offers on NFL games, but you'll find lots of different fantasy NFL sports leagues to play with.
You may not find the price boosts you would find on other sportsbooks, but their pricing is competitive.
They also cover college and Canadian football with the same in-depth focus as the NFL.
Other Sports Betting Markets
As well as NFL and NBA betting, you'll find that FanDuel covers other major sports, such as hockey, golf, boxing, MMA, and baseball.
If you love betting on soccer games from around the world, FanDuel is the place to be. They cover a variety of international leagues from Europe, Asia, and South America, so soccer lovers are well-catered for here.
Live Betting at FanDuel NJ
Known as in-play betting, live betting has become increasingly popular over the years. FanDuel Sportsbook NJ offers an innovative and reactive in-play betting system. Its software allows lines to be updated quickly, so you can closely follow the action and make the most profitable decisions.
Live betting is available on a variety of sports markets. There are also links to current in-play betting opportunities on FanDuel's homepage.
FanDuel has a section on joining in with in-play betting in its training camp.
Withdraw & Deposit
When deciding which sportsbook you want to play with, you need to know about the different payment methods. Not every sportsbook offers seamless deposits and withdrawals using the payment methods you want.
Banking with FanDuel Sportsbook NJ
All transactions with FanDuel Sportsbook are handled in USD. As well as your ordinary credit/debit card, you can also use PayPal. The majority of US sportsbooks don't offer PayPal as a banking option.
If you want an instant deposit, these are the two best payment methods to use. A wire transfer could take at least five business days before you see the money in your account. On the other hand, a physical check could take seven business days to fully process.
There are also prepaid cards available if you don't want to use your regular banking method.
Payment Methods
FanDuel covers the majority of common payment methods. Although it's not as large as some of its competitors in New Jersey, most players will have no problems with the number of payment methods on offer.
Some of the payment methods you can take advantage of include:
Credit/Debit cards.
PayPal.
Checks.
eChecks.
Prepaid FanDuel cards.
Wire transfer.
7-Eleven PayNearMe.
FanDuel is owned by a trusted name, so you shouldn't have too many problems working with them. There are some banks that sometimes have trouble with processing payments to sportsbooks like FanDuel, but most people shouldn't have a problem making a deposit.
Types of Bets with FanDuel Sportsbook
FanDuel Sportsbook offers lots of different betting types. You can find these betting types in practically every sportsbook, so you don't need to worry about not finding your favorite type of bet here.
Here are some of the most common betting types available with FanDuel.
Moneyline Bet
The moneyline bet is perhaps the most basic type of bet you'll find. Known as a 'win' bet, you place your money on the team or player you expect to win. If they win, you win. You can also bet on a loss or a draw in many games.
Odds are lower on the more popular American sports, so don't expect to get great odds on a moneyline bet.
Point Spread
To alleviate the lower price points you receive with most popular American sports, there's the point spread. This makes every type of game competitive because the favorite to win is handicapped.
A team may have a point spread of -7, which means they need to win the game by more than seven points for bets on that team to win.
Parlays
A parlay bet is a way to win big. You bet on multiple games and every outcome has to win for you to win the bet. Most sportsbooks state that a parlay is not a parlay until there's a minimum of four legs involved. Anything less would be known as a 'double' or a 'triple'.
You'll find lots of different multi-leg promotions with FanDuel.
The reason why the payouts are so big is that the winnings from every leg serve as the stake for the subsequent leg of the bet.
Teasers
Teasers are essentially the same as a bet on or against the spread. The only difference is you can change the point spread to give you an advantage. Naturally, this means you'll win less if the bet comes in, but you increase your chances of winning.
Site Features and User Experience at FanDuel NJ
You'll notice that FanDuel offers a simplified interface, with separate tabs for its sportsbook, fantasy sports, and horse racing. Just click on any of these tabs to go to the part of the site you want.
The main interface displays the different games currently in progress and the lines on your favorite events. It couldn't be an easier layout to manage, even if you've never created an account with a sportsbook before.
New players who don't know how online sports betting can use the FanDuel Sportsbook Training Camp. This is a part of the website that comes with a number of sports betting guides. You'll learn about the terminology and what all the different numbers mean.
There are also some other sports-specific tips.
FanDuel is powered by IGT and GAN. The in-play betting moves quickly and is extremely reactive to players, so you can ensure you get the line you want
Mobile Sportsbook App
In this day and age, players don't want to grab their computer every time they want to make a bet. A sportsbook app for your smartphone is critical to what makes a sportsbook great.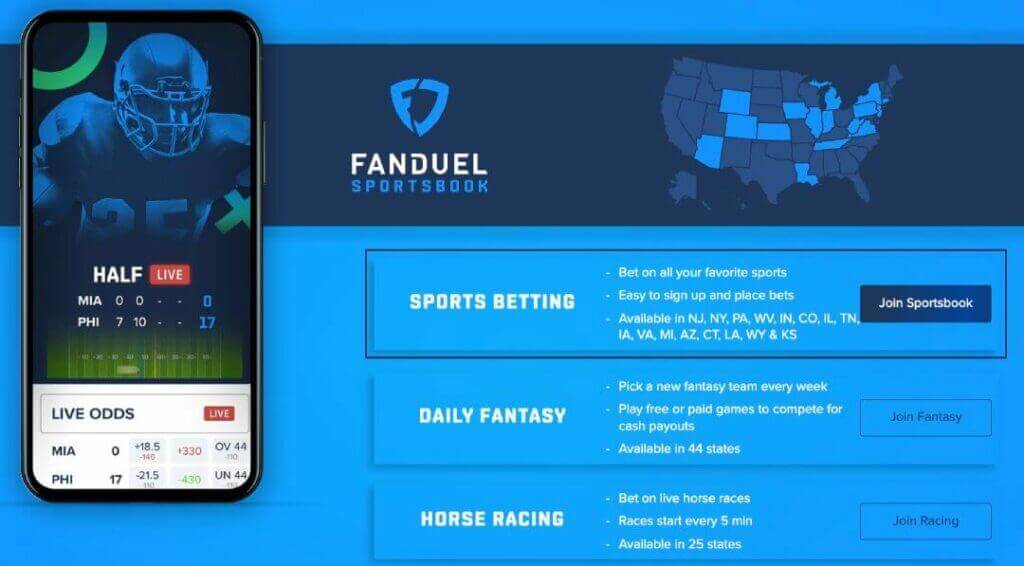 FanDuel offers both an Android and iOS app. They work in the same way as the website, so you won't need to learn how to use two platforms. The only negative aspect is the app isn't as detailed as the website sportsbook.
However, you'll find all the same account management settings on the app. You can still enjoy a great betting experience on mobile without ever using the desktop sportsbook.
Customer Support
FanDuel Sportsbook offers a high level of customer service, with a variety of ways in which you can contact them.
How to Contact FanDuel Sportsbook
To begin with, FanDuel provides 24/7 live chat, so you can chat with an expert whenever you like. Just type your query into the window on the website and someone will get in touch with you within a few minutes.
Another option you have is to contact them through email. Send them an email and they'll usually reply with a detailed response within 24 hours.
Alternatively, you may contact their New Jersey customer support team over the phone on 877-689-0062. For more complex problems, it's recommended that you call them directly.
Registration with FanDuel Sportsbook
Creating an account with FanDuel couldn't be easier.
Just click to register and you'll be prompted to enter your personal details, such as your name, address, and social security number. Double-check your information so you don't have any problems confirming your identity when you attempt to make a withdrawal. All information requested by FanDuel is necessary for it to conform to gambling laws.
Once you've added in your details, you'll need to visit your email account and click on your verification link. Make sure you check your spam folder!
After this, your account will be open and you'll be free to make your first deposit.
When you make your first withdrawal, you'll need to send them a high-quality image of a piece of photo ID, such as your passport or driving license. Most customers receive a response within 72 hours.
Responsible Gambling
FanDuel is committed to responsible gambling online, and they even have a whole section on their website.
Through your account, you can set betting limits for the day, week, and month to better control your gambling. Furthermore, you can opt for self-exclusion with FanDuel.
Known as Timeout on FanDuel, you can self-exclude for a pre-determined period of time. All you have to do is send them a message and you'll be unable to login to your account. Take note, this is permanent, and you won't be able to get out of it until the period of time has elapsed.
How to Delete an Account with FanDuel Sportsbook
FanDuel Sportsbook is obligated to process all requests for account deletion. To delete your account, you'll need to contact FanDuel at [email protected]. You may also call them and request for your account to be deleted.
You don't need to give a reason as to why you want to delete your account. Their customer support team will process your request and your account will be deleted.
This is a permanent step and once your account has been deleted, you won't have the option of re-opening it again. This is why it's recommended that players attempt self-exclusion before they decide on permanent deletion.
Security, Privacy, and Fair Play Guaranteed
FanDuel is owned by Paddy Power Betfair, which is one of the largest sportsbook corporations in the world. Despite being a European company, they always comply with Federal and state rules on gaming and security.
They use the latest encryption methods to ensure that your data is safe. Plus, they're known for their security measures as they're one of the few sportsbooks PayPal has decided to work with.
You can also browse both the fair play and privacy policies on their website for more information on how they run their live betting platform and the rights of players.
FanDuel Sportsbook: Our Conclusion
FanDuel is a relative newcomer to the world of online sportsbooks. Despite this, they offer a great playing experience with an interface that's simple to understand.
We think that Fanduel in NJ offer some of the easiest and most simple Welcome bonuses in New Jersey, which really are appreciated in a world where most bonuses are very complicated to understand.
While they do lack a VIP program and could improve upon the number of sports they offer to players, what they do offer is a fair gaming experience that works equally well on both the desktop website and the app.
For New Jersey players, FanDuel is a good option for fulfilling your sports betting needs.